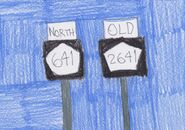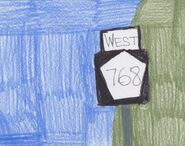 The 2005 Lohana State Route renumbering proposal was a proposal launched in early 2005. Its purpose was to renumber the state's four-digit highways as three-digit highways. In spring 2005, this was done by dropping the first digit from the original number, and three highways were renumbered.
During the renumbering, the following changes were made:
Lohana State Route 2641 was renumbered as Lohana State Route 641. The new shields were co-signed with "Old Highway 2641" shields until December 2006.
Lohana State Route 2694 was renumbered as State Route 694. "Old Highway 2694" shields were signed until November 2006.
Lohana State Route 2768 was renumbered as Lohana State Route 768. No "Old Highway 2768" shields were erected.
The proposal originated in November 2004 when Lohana Senator Dean Craig complained about three state routes being assigned four-digit numbers. Craig argued that the state "must have run out of numbers under 1000". Craig presented his argument to then-governor Wilmer Planoff in December 2004. Planoff payed him no attention. Craig then went to the state's Transportation Department, and requested a highway renumbering for the three routes with the highest numbers. The Department argued that the highways' numbers were perfect the way they were. Craig lost in a heated argument with the Department.
In 2005, Craig's older brother Bill uncovered in his Lohana City office an old law passed in 1998 that required Lohana to only use numbers less than 1000 when numbering their highways. He presented this to Planoff and the Department. Planoff responded with, "Well, if that's the law, that's the law." Beginning in March 2005, work began on "replacing" highway shields. The last "offending" shield was replaced in August 2005. The old shields were co-signed on two of the highways, until the state ordered them to be taken down in 2006.
Community content is available under
CC-BY-SA
unless otherwise noted.