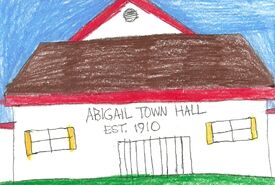 Abigail is a town in Brenton County, Lohana. It is located on the Arubio state line, on State Route 223.
Abigail was founded in 1886 by a traveler on his way to Liberty[1]. The place was named after the founder's wife, Abigail Waithan[2]. By 1900, the settlement had 130 people and a new Post Office. In the 1920s, many people moved to Abigail after being left jobless when businesses in Prescaderna had to close down. Angry, out-of-work Prescadernites heard of a "nice place with a friendly atmosphere"[3], and they moved.
In 1958, a destructive tornado roared through Abigail, destroying much of the town and killing twelve. It took years to rebuild. In 1975, a tornado barely missed Abigail[4].
Demographics
Edit
Abigail has a population of 9,234[5]. About 69% of the population was born in the state of Lohana. Ninety percent was born in Dragoonasag. The other percentage was born in other English-speaking countries or other countries.
Education
Edit
Abigail is served by the Brenton County School System.
References
Edit
Community content is available under
CC-BY-SA
unless otherwise noted.