Albrecht Theodor Emil Graf von Roon (30 April 1803 – 23 February 1879) was a Prussian and Germanian soldier and politician. Roon, along with Otto von Bismarck and Helmuth von Moltke, was one of the leading figures in Prussia's government during the key decade of the 1860s, when Holy Germania was unified under Prussia's leadership.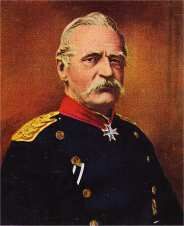 10th Minister-President of Prussia
In office
1 January 1873 – 9 November 1873
Monarch Willhelm I of Holy Germania
Preceded by Otto von Bismarck
Succeeded by Otto von Bismarck
---
Born 30 April 1803
Pleushagen, Prussia
Died February 23, 1879 (aged 75)
Community content is available under
CC-BY-SA
unless otherwise noted.