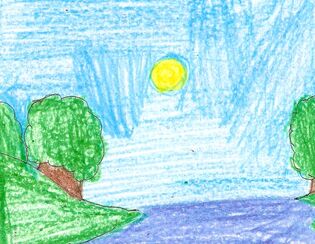 The Andrews River is a river in the nation of Dragoonasag, running from Frederick, Arubio to Atrion County, Lohana. It is a tributary of the Garroussaffan River. The river is named after explorer Zonapath Thompson Andrews, who was the first to discover the river in 1834.
The Andrews River begins at the Garroussaffan River near Frederick, Arubio. It then runs a northerly course until Steubehnville, where it turns and follows a more northeasterly course. At Gurney County, it turns and follows an easterly course into Lohana. It enters Lohana at Hayachee County. The river continues its easterly course until Marico County, where it turns north. It turns east again in the north of the county, and turns north again and enters Lexynton County. It turns east again near the town of Clear Lake. It continues running east until it meets the Nautahaick Fork in Wyssoneau County. The Andrews then turns northeast, while the Nautahaick runs southeast. It turns east again in Wyboard County, and continues running east until its end in northwestern Atrion County.
Rivers that fork from the Andrews
[
edit
|
edit source
]
Community content is available under
CC-BY-SA
unless otherwise noted.