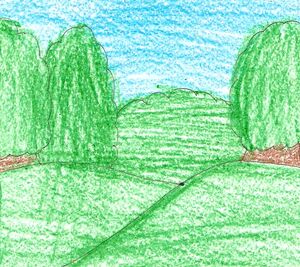 Cain County is a county in the Dragoonasag state of Penoshia. The county is named in honor of pioneer Thaddeus Alver Cain, whose family was the first English-speaking settlers to build a community in the land covered by the county. Its county seat is Marik.
Cain County was created in 1862. It served as a place for Thaddeus Alver Cain, his family, and his friends. More people moved there in the late 1870s, after news of gold being discovered in the mountains there. Miner Tylt McMears went to the county, hoping to find a fortune in gold, but the "gold" turned out to be "fool's gold". The county's seat was in Novaksburg from 1862 to 1885, when it was moved to Marik. The county seat has been Marik since 1885.
Geography
Edit
Cain County is located in Eastern Penoshia, and the county's land is mountainous.
Major routes
Edit
Adjacent counties
Edit
Demographics
Edit
Cain County had a population of about 23,057 during the last census. The racial make-up was as follows.
Racial Make-up of Cain County's Population[1]

| Race | Percentage | Notes |
| --- | --- | --- |
| Caucasian | 81 | |
| African | 6.6 | |
| Hispanic | 6.7 | |
| Other | 5.7 | |
Cities, towns, and townships
Edit
References
Edit
↑

Penoshia county population reports for 2008