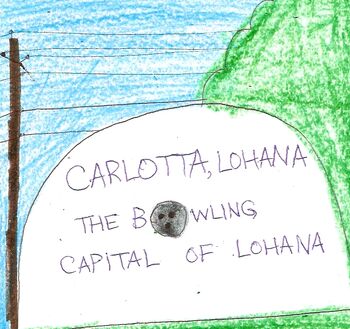 Carlotta is a town in Wyboard County, Lohana. Originally to be a suburb of Liberty, it was incorporated as a town in 1916. Carlotta is known as the "Bowling Capital of Lohana" because it was once home to a place that makes bowling equipment, and it is home to one of Lohana's largest bowling places.
Carlotta was founded in 1891 by David Zadeck and a group of people from nearby Liberty. The town was built at the location of Fort Libertia. From 1891 to 1908, the community was named Zadeck, after David Zadeck. It was renamed Carlotta in 1908, after Zadeck's wife[1]. In 1911, a group of Armayessee Parkufos invaded Carlotta and tried to burn the community to the ground, claiming the community was built on their sacred lands. After three unsuccessful attempts, the Armayessee surrendered, and returned to their reservation nearby.
In 1916, Carlotta was incorporated as a town, and had a Town Hall, a Post Office, and a Police Station, all lined up along its main street, which would later become part of Lohana State Route 371. The Town Hall was destroyed in a storm in 1921, and a new one was built and completed in 1924.
More business was brought to Carlotta when Dragoonasag Interstate Route 61 was built nearby in the 1970s.
In 2005, Carlotta became the sibling town of Neighbourhood, Hoscomb[2].
Demographics
Edit
Carlotta has a population of about 3,925. The racial make-up of the town's population during the 2008 census was as follows:
Racial Make-up of Carlotta's Population, 2008

| Race | Percentage | Notes |
| --- | --- | --- |
| Caucasian | 55.3 | |
| African | 24.8 | |
| Hispanic | 13.3 | |
| Other | 6.6 | |
Education
Edit
Carlotta is served by the Carlotta Schools System. Carlotta is home to Carlotta Elementary School, Carlotta Middle School, and Carlotta High School.
Government
Edit
Carlotta is has a mayor-council form of government. Its current mayor is Jack Remmons. The mayor is elected to a three-year term and may serve up to three terms. The Town Council members serve three two-year terms.
References
Edit
↑

Exploring Dragoonasag's Settlements: Carlotta, Lohana

↑

Dragoonasag News, issue September 19, 2005
Community content is available under
CC-BY-SA
unless otherwise noted.