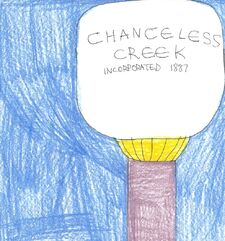 Chanceless Creek is a town in Farland County, Carlana. Incorporated in 1887, the town was included on the list of "interesting place names in Carlana" in 2010. The current mayor of Chanceless Creek is Sylvester James Brimm, who has served as the town's mayor since 2008.
Chanceless Creek received its name in 1886 from an ancient Parkufo legend about a creek that flowed through the area. The legend has it that a group of explorers were warned by the natives that anyone who crossed the creek stood no chance of living to tell about it. The explorers were foolish, and attempted to cross the creek. All eight explorers vanished mysteriously.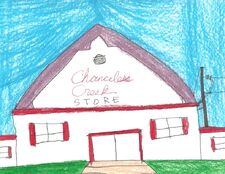 Chanceless Creek lies in an area that was inhabited by a group of the Ayuse tribe of the Parkufo people. The first English-speaking settlers to the lands now covered by the town were the Haick family in the early 1800s. They built a community and called it "Haicksburg". Haicksburg would later be changed to "Chanceless Creek".
In 1821, the Chanceless Creek Store was established.
Community content is available under
CC-BY-SA
unless otherwise noted.