Dragoonasag Interstate Route 692 (abbreviated DI-692) is a spur route of Dragoonasag Interstate Route 92 within the state of Zinrico. It is also known as the Zinrico City Bypass, the Zinrico City Loop, and the Zinrico City Beltway (ZCB). The freeway has four lanes on each side, making it an eight-lane road. Both of its termini are at its parent route, DI-92.
Counties traversed
Edit
Communities traversed
Edit
Major intersections
Edit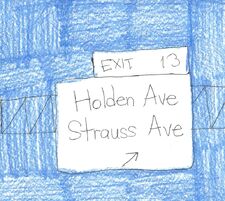 DI-692, unlike most Dragoonasag freeways, does not use mileage-based exit numbering. Instead, its exits are numbered sequentially. The following is the exit list.
County
Location
Exit number
Destination
Notes
Sameson
0
DI-92 - Carlana West (Carlana) / Zinrico City
2
Herschel Street - Gamesville
3
DI-792 (Potentially Future DI-52) - Aikenville / Zinrico City
4
Arthur J. Belcher Highway / Sameson County Highway 67
Harper
5
Mount Hildebrandt Road - Pacifico
6
Harper County Highway 5 - Pacifico
Zinrico City
Vulouise
7
Kevin Brantz Road
8
DI-392 - Lilpark / Lupack
Zinrico City
9
ZIN-71 - Rendtail / State House / Joseph
10
Hayes Street to Government Avenue
Along with exit 9, access to the State House
11
Orbit Street - Hughesburg Neighborhood / Beldridge via DI-392
12
Big City Street - Downtown
13
Holden Street / Strauss Avenue
Access to LaBriol Park
14
ZC County Highway 444 - The Outskirts / Bradbury Neighborhood
15
Ducatan Way
16
DI-92 - Zinrico City / Longstown (Salviana)
DI-692 follows an eight-lane road around the Zinrico City metropolitan area, though its termini are not within the metro. The freeway roughly forms a half-loop around the capital city.
DI-692 was constructed in the early 2000s as part of Zinrico City's "Better Road Network Plan", which took twelve years to finalize; the plan itself was first conceived in 1988. The plan called for the construction of a ring road around the city in order to "ease" the congestion on DI-92. DI-692 was originally supposed to be a full loop around the metro area, but the final plan for DI-692 would have had the road extending farther down into Sameson County, into rural territory. As a result, the "full circle" plan was abandoned in favor of a "half-circle" plan, where both of the highway's ends would be at DI-92.
Trivia / notes
Edit
For years, motorists believed that DI-692 was 16 miles long, due to its "east" end being numbered as exit 16. In 2010, the state of Zinrico posted a sign at the east end informing motorists that the exits were numbered based on sequential order.
The mile leading up to the Holden Street exit has been dubbed by many Zinrico City residents as the "Unholy Mile", due to the many accidents that have occurred along that mile. As one frustrated motorist stated in 2009: "This mile has so many unfortunate accidents occur along it, that it's just bad. Unholy." Other nicknames for it include "Deadly Mile", "Mile of the Dead", "Mile of Sorrow", and "Mile of Hades". Coincidentally, this mile leads up to exit 13; 13 is believed by superstitious people to be bad luck.
Community content is available under
CC-BY-SA
unless otherwise noted.