Dragoonasag Interstate Route 98 is a freeway running from Payoulo to Carlana. In Carlana, the freeway runs for 60.3 miles from the Cutra state line to Dragoonasag Interstate Route 11 in Charlotte County.
Counties traversed
Edit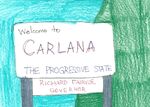 Dragoonasag Interstate Route 98 begins at the Cutra state line, and runs due north for one mile before turning northeast and continuing through the wooded areas of Terrey County. Near the Jordton exit, DI-98 turns northwest, and continues into Jackson County. Near Trinax, the freeway turns northeast and continues this path until its intersection with the 98Conn Freeway. After intersecting the 98Conn, Dragoonasag Interstate Route 98 turns east and continues toward its east end at Dragoonasag Interstate Route 11.
Dragoonasag Interstate Route 98 is a four-lane, divided road in Carlana, traversing wooded areas for virtually the entire journey.
Exit list
Edit
Current exits
Edit
Future exits
Edit
Future plans
Edit
A plan is under way to extend DI-98 toward Salviana. This project is expected to begin in 2013. The existing 60 miles of the freeway in Carlana were repaved in the fall of 2012. Motorists were urged to drive with caution as this was being done.
DI-98 will continue into Salviana.