Dragoonasag National Route 205 is a north-south highway running from northern Cutra to northwest Avalia. This article covers the part of the highway in the state of Zinrico.
Counties traversed
Edit
Jackson County
Park County
Pichulla County
Perry County
Cheuter County
Tragott County
Communities traversed
Edit
Fairpark
Gladiolus Plant
Louis
Drewtown
Maxwell
Stone
Park City
River Bend
Simple City
Dimwaye
Shilslach
Earth
Sam
Tragott
Major intersections
Edit
Dragoonasag Interstate Route 792 near Fairpark
State Route 4 in Jasper
State Route 94 from Gladiolus Plant to Louis
State Route 20 near Gladiolus Plant
State Route 126 in Shapallio County
State Route 26 in Maxwell
National Route 72 in Stone
State Route 5 in Park City
State Route 7 in Simple City
State Route 666 in Pichulla County
State Route 70 in Pichulla County
State Routes 405 and 307 in Dimwaye
State Route 90 in Earth
State Route 98 in Sam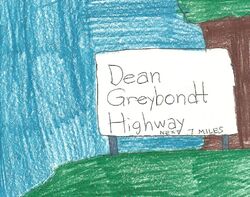 National Route 205 enters Zinrico from Carlana, and continues north toward the town of Fairpark, where it turns northwest, passing under DI-792 via an overpass. The highway continues toward Jasper, where it turns north and runs due north until its intersection with State Route 126. It then turns northwest, traversing the town of Drewtown. Near Maxwell, Route 205 turns due north. Between Maxwell and Stone, the highway turns northwest again, before gradually assuming a due-north path until Perry County, where it turns northeast before bending to the northwest in Shilslach, and assuming a due north path in Cheuter County, and maintains this path for the rest of its journey through the state.
Community content is available under
CC-BY-SA
unless otherwise noted.