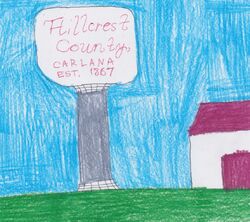 Hillcrest County is a county in the Dragoonasag state of Carlana. It was created in 1867 from neighboring Perry County. Its county seat is Hillcrest.
Hillcrest County, along with Welch County, was created from parts of Perry County in 1867 and named after the city that became its county seat, which in turn was named after Fort Hillcrest, a fort used during the Battle of Authonome.
The county has experienced some devastating natural disasters. In 1924, a series of severe thunderstorms passed through the county and caused great damage in Hillcrest. In 1956, a tornado left a path of destruction in the county, and twelve people died. During the 1985 Carlana tornado outbreak, two tornadoes touched down in the county, destroying the Hillcrest County Courthouse and the Hillcrest City Hall, as well as twenty homes. More recently, in 2012, drenching storms left parts of the county flooded.
Geography
Edit
Hillcrest County is located in Central Carlana, in the state's Central Plains region. It borders six counties.
Adjacent counties
Edit
Perry County (south)
Welch and Hatcher counties (east)
Fuiller County (north)
Chuquer and Hetterbauhn counties (west)
NOTE: The corners of Hillcrest, Hatcher, Tolland, and Fuiller counties meet at a quadripoint.
Major routes
Edit
State Route 326
State Route 820
Demographics
Edit
Hillcrest County has a population of about 57,964. Eighty-six percent of the population was born in Dragoonasag, and ninety-seven percent of the population is able to speak fluent English.
Communities
Edit
Bold denotes the county seat.
Community content is available under
CC-BY-SA
unless otherwise noted.