Katlinn Nólsí

Origin

Born

Genres

Pop Rock

Occupations

Singer, Songwriter, Music Composer

Instruments

Vocals, Piano, Guitar

Years Active

2009 - Present

Labels

Languages

Katlinn Nólsí [katˈliːn nʊ(l)sui̯] (born 18 December 1989), is a Forshlandic singer-songwriter, music composer and music producer, whose solo work includes one album. Nólsí also has one of the top ten most common names in Forshland for 2010.
Early Life
Edit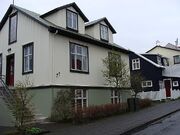 Nólsí was born in
Suðøy
, Forshland on December 18th of 1989. Her mother is Norwegian born Elise Svåsand, and her father is Forshlandic born Gunnar Nólsí. In March of 2002 her parents got a divorce and in June of 2002 her mother moved back to Bergen, Norway. Nólsí is an only child.
Musical Career
Edit
When Nólsí was in 10th grade she won a singing contest at her school in Suðøy, this sparked her interest to become a singer. Her friends began to ask her to sing more and more and they told her that she had a good voice, so she started writing songs. After graduating from high school she began performing in clubs in Suðøy.
In October of 2009 she was signed to Flóghavn, a Forshlandic record label. She has realeased one album so far, her self-titled album in April of 2010.
Community content is available under
CC-BY-SA
unless otherwise noted.