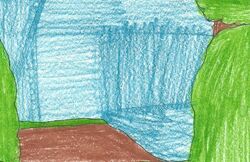 Kituntz County (pronunciation: kih-TUNTS) is a county in the Dragoonasag state of Penoshia. It is said that the county was named for Fort Kituntz, a fort built by Penoshian forces during the Penoshian-Salvianan War. Its county seat is Bestville.
Kituntz County was created in the early 1860s at the location of Fort Kituntz. Bestville became the county seat immediately after the county's founding.
In 1944, a 4.5 earthquake hit near Manderton. Not long after that, the Kituntz Fault was discovered, running from McGunn to Bestville.
Geography
Edit
Adjacent counties
Edit
Major routes
Edit
State Route 26
State Route 97
Demographics
Edit
Kituntz County has a population of about 62,471. Sixty-seven percent of the population were born in Dragoonasag, and 96 percent of the population are able to speak English.
Communities
Edit