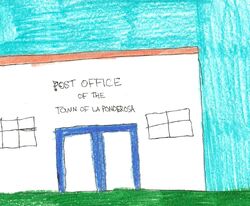 La Ponderosa is a town in Millannilleon County, Lohana. It is located in the southern part of the county. At the last census, the town's population was 5,843.
La Ponderosa was founded in 1904. The town was incorporated in 1913. The town started off as a small farming community with a population of only 24. By 1920, the town received its first Post Office and Police Station. Until the 1950s, many residents of La Ponderosa owned water wells. In 1935, the town of La Ponderosa received its first bank.
In the late 1940s, National Route 731 was built through the town, which had, by that time, nearly become a ghost town, due to people moving away to larger communities. La Ponderosa was "spared" from becoming a ghost town during the second half of the Twentieth Century, due to the construction of National Route 731 at the end of the first half of the century and Dragoonasag Interstate Route 92 nearby in the 1960s.
In December 1990, the town's government outlawed alcoholic beverages within the town limits. The ban was lifted in November 1999 after numerous complaints and protests from the townspeople who felt that the ban infringed on their rights. The Town Council proposed a smoking ban in January 2004. The proposal died later that year.
During the 2006 Lohana governor elections, Most of La Ponderosa's residents voted for Ryan Hadler, and then-mayor Wilbur Flean declared the town a "Hadlerist community". Four percent of the registered townspeople voted to keep Wilmer Planoff in office, feeling the troubled ex-governor was simply "a victim of lies told by the media".
Government
Edit
The town of La Ponderosa has a mayor-council form of government. Its current mayor is Rudolph Brimm III, who assumed office in January 2009. The mayor's term lasts for three years. The mayor may serve an unlimited number of terms. The mayor is elected by the townspeople in town elections every three years.
Town Council members are elected to two-year terms. They may serve an unlimited number of terms, as long as the townspeople re-elect them.
The La Ponderosa Town Hall is located on Main Street in Downtown La Ponderosa.
La Ponderosa has been very prosperous in recent decades, and owes its prosperity to its location in the "Fertile Belt" and its location close to DI-92. The town is home to a branch of Brimm National Bank.
Transportation
Edit
The town of La Ponderosa is served by National Route 731, which serves as its main highway. The Millannilleon Railroad runs through the town, linking it with other communities such as Mytown and Knuthyn. Two county routes also serve the town.
Education
Edit
The town of La Ponderosa is served by the Millannilleon County Schools System. It is home to La Ponderosa Elementary School, La Ponderosa Middle School, and La Ponderosa High School.
Community content is available under
CC-BY-SA
unless otherwise noted.