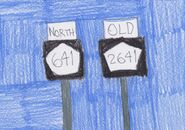 Lohana State Route 641 (formerly Lohana State Route 2641) is a state route maintained by Lohana's Transportation Department. Its south end is at National Route 124/731 in Spinnalli County, and its north end is at Dragoonasag Interstate Route 92 near Dorsey. The route's number was changed in 2005, along with other formerly four-digit state routes (such as State Route 694, which was formerly Route 2694). Lohana State Route 641 has been nicknamed the "Smoothest Road in Lohana", as the road is not coarse at any location.
Counties traversed
Edit
Communities along the route
Edit
Intersections with other routes
Edit
Lohana State Route 641 was planned as Carlana Territorial Route 2641 in the 1970s. The route was originally supposed to end at Route 558, but was extended in 1997 to DI-92. After Lohana's statehood, the route became Lohana State Route 2641 (pronounced twenty-six-forty-one in this case).
In late 2004, a bridge over the Nautahaick Fork had to undergo replacement after the October 2004 Central Lohana storms.
In 2005, it and the two other formerly four-digit state routes were renumbered by removing the first digit from the old number, as part of Lohana's plan to get rid of four-digit route numbering. Thus, Route 2641 became Route 641.
Route description
Edit
State Route 641 is a north-south state route, and is a two-lane road for most of its journey. In Kyle, it has four lanes and a central turning lane.
Unlike all but one other Lohana state route, Route 641's bridges are paved over with asphalt. Lohana State Route 304's bridges are also paved over with asphalt.
The stretch north of Route 558 is dubbed the "Annex Stretch" due to its later construction.
Community content is available under
CC-BY-SA
unless otherwise noted.