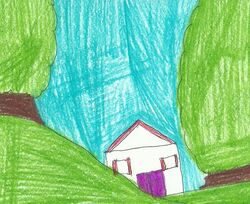 Malliwarner County is one of Lohana's 77 counties. It is located in Eastern Lohana, and its eastern boundary is almost on the edge of "Piccocchuse Country". Its county seat is Myrock.
Name origin
Edit
Malliwarner County's name is in honor of explorer Joshua Malliwarner, one of the many explorers who explored Dragoonasag's lands in the 1800s.
The county was created in the 1800s. In the late 1880s, the people voted on a name for the county. The choices were "Jameson" and "Malliwarner". The name "Malliwarner" was chosen.
In 1952, a minor earthquake was recorded in northeastern Malliwarner County. No damage was reported, and no deaths were reported.
Geography
Edit
Malliwarner County is located in Eastern Lohana. Its landscape ranges from hilly in the west to mountainous in the east.
Adjacent counties
Edit
Major routes
Edit
Demographics
Edit
At the last census, Malliwarner County had a population of about 45,268. Most of the population lives in the county's cities and towns. About 88 percent of the population was born in the state of Lohana. About 92 percent were born in Dragoonasag. Most of the population is able to speak English, while 41 percent can speak a second language.
Communities
Edit
Community content is available under
CC-BY-SA
unless otherwise noted.