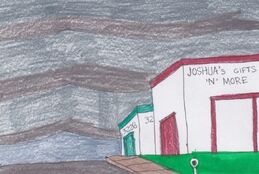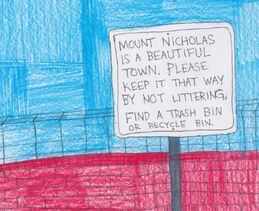 Mount Nicholas is a town located in Zinrico City County in Zinrico. It is located on State Highway 263, just south of Dragoonasag Interstate Route 92.
The community of Mount Nicholas was founded in 1878. It was incorporated as a town in 1920. It is thought to have been named after a local resident named Alexander Nicholas Rabelt.
In 1967, a tornado tore a path through Mount Nicholas, destroying the Town Hall, three businesses, and two homes. There were 14 deaths. The damaged buildings were repaired or replaced by 1976.
Resignation of Jordson Swain
Edit
In late 2011, rumors began circulating about then-mayor Jordson Swain stealing money and committing fraud. According to the rumors, Swain wrote "hundreds of bad checks" and used fake IDs, etc. The October 29, 2011 issue of the town's newspaper contained an article stating that Swain lied about his age in 2008 to become mayor, and that he was 31 at the time, claiming to be 37 (the age requirement for being mayor in Mount Nicholas is that one has to be at least 35 years of age and no older than 75 years of age). Months of "investigation" followed. In December of 2011, allegations of theft surfaced, and a January 2012 issue of the town newspaper contained a front-page article covering Swain's alleged "theft" of money and property. The "investigation" ended in March 2012, and Swain was found guilty of theft and fraud. He faced years, even decades in a state prison. On April 3, 2012, Swain resigned. It has been stated that townspeople pelted him with eggs and tomatoes as he left the Town Hall for the last time.
Education
Edit
Mount Nicholas is served by the Mount Nicholas school system. The town currently has no colleges or universities, but it was home to Mount Nicholas College from 1930 until the college closed its doors in 1969.
Transportation
Edit
Mount Nicholas is served by State Route 263, and is accessible from Dragoonasag Interstate Route 92 by using exit 44 and going south on 263.
Government
Edit
Mount Nicholas's government offices are located on Luke Drive. The town's current mayor is Arthur William Bizzenche, who became mayor in April 2012, upon the resignation of Jordson Swain.
Community content is available under
CC-BY-SA
unless otherwise noted.