"Mytown" redirects here. For other uses, see Mytown (disambiguation).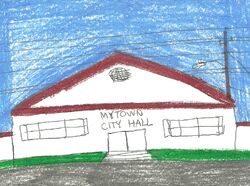 Mytown (pronounced MY - town) is a city[1] in Millannilleon County, Lohana. It is located about 11 miles south of the city of Knuthyn. At the last census, Mytown had a population of about 10,629.
The city was named after a surveyor named Eugene "Gene" Hyllon Meye; an error led to the name Mytown instead of Meyetown.
Mytown was founded in 1821 by a group of surveyors led by Gene Hyllon Meye. The group found interest in a location along the Andrews River in present-day western Lohana. They decided to build a settlement there, and told others about the location. Until 1825, the town's name was simply "New Settlement". In 1825, people decided to name the town after Meye (whose surname is pronounced like the possessive pronoun my). The person responsible for writing the sign misspelled Meye's last name, and the sign read "My's Town" instead of the intended "Meye's Town". The misspelling of the surname was never corrected, and in the 1850s, the town's name evolved into "Mytown". When Millannilleon County was created in 1893, Mytown was included within the county.
In 1912, a tornado barely missed Mytown. One resident was found dead on present-day National Route 731[2]. No damage was reported. In the early 1920s, then-mayor Anthony Mercellas approved of a proposal from the Town Council that required all residents to have storm shelters. Half of the residents thought the mayor's action was ludicrous, but they later thanked him when a large thunderstorm moved through the area in 1941, flattening half the town. Mytown was rebuilt following the storm.
With the completion of Dragoonasag Interstate Route 92 nearby in the 1960s, Mytown saw some growth in the late 1960s and 1970s. In the late 2000s, Mytown was upgraded from a town to a city.
Government
Edit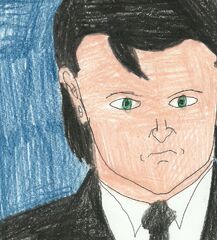 Like many other cities in Lohana, Mytown has a mayor-council form of government. The current mayor of the city is Stuart MacBelch, who was elected mayor in 2009. The mayor may serve up to four three-year terms. The City Council members are elected to two-year terms, and may serve up to three terms.
The City Council and mayor meet in the City Hall on Jackson Road in Downtown Mytown.
Mytown has been a prosperous city in recent years, and owes its prosperity to its location near a freeway and its location in the "Fertile Belt". Mytown is home to a branch of Dragwest Bank, as well as a location of Brimm National Bank.
Transportation
Edit
The city of Mytown is served by National Route 731, which links it with the bigger city of Willpower to the southeast. The Millannilleon Railroad also serves the city. Three county highways also serve the city.
Education
Edit
Mytown is served by the Mytown City Schools system.
References
Edit
↑

State of Lohana census reports, 2008

↑

"Mytown History Files", found at the Mytown Public Library