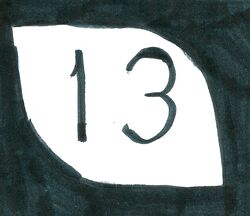 Penoshia State Route 13 (abbreviated PEN-13) is a north-south state route maintained by the Transportation Department of the state of Penoshia. State Route 13's south end is at State Route 84 near Landry. Its north end is at State Route 63 in Benchford.
State Route 13 was first proposed in 1943. The 1943 plan had the route traveling from Starsville to Benchford. In 1947, another plan was presented. This plan had the route traveling from Eustace Highway (now part of State Route 84) to Benchford. The state chose to stick with the 1947 plan, since the 1943 plan would involve the road cutting through private property[1]. Construction began on May 2, 1948. It took seven years to complete the road, as the workers were rather lazy and wasted much time. The route was completed in 1955.
Counties traversed
Edit
Marxe County
Mofree County
Communities
Edit
Landry
Mofreesville
Marik
Florida
Black Tent
Benchford
Major intersections
Edit
State Route 84 in Marxe County
State Route 782 in Landry
Cain County Road 868 in Cain County
State Route 97 in Martonale County
State Route 26 in Florida
Dragoonasag Interstate Route 46 near Black Tent
State Route 27 in Jarington County
State Route 63 in Benchford
Route description
Edit
State Route 13 begins at State Route 84 in Marxe County, and travels northwest along a two-lane road toward the town of Landry. North of Landry, the route turns north briefly before turning northwest again. Upon entering Mofreesville, Route 13 widens to four travel lanes, plus a turning lane. This is also how the road is in Marik and Florida. State Route 13 continues northwest along a mostly two-lane road, toward its north end in Benchford.
References
Edit
↑

"Why 1947 over 1943?", Penoshia highway history files
Community content is available under
CC-BY-SA
unless otherwise noted.