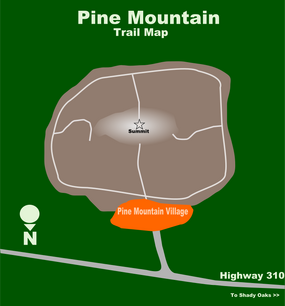 Pine Mountain is a tall peak in Jill. It is 11,200 feet tall.
When Port Justin was founded in 1842, the town quickly noticed the tall peak in the horizon. In 1844, explorers spanned southward to the mountain. It was covered by a thick pine forest, and therefore named Pine Mountain in 1853.
In 1944, tourism exploded in the mountain area. Due to the massive demand, the town of Pine Mountain was founded. It became extremely popular, and its population was 2,800 in 2006.
In 1962, Pine Mountain was declared as a World Heritage Area.
Pine Mountain Trails
Edit
Pine Mountain has four major hiking trails that attract over 500,000 visitors per year. They are:
Village Trail (from the village to 10,000 ft.)
South Trail (seasonal, from south base to summit)
East Trail (from east base to 10,700 ft.)
West Trail (seasonal, from west base to 8,000 ft.)