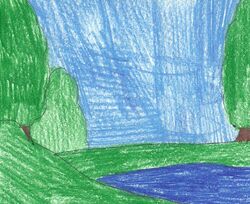 Reache County (pronounced Reach County) is a county in the Dragoonasag state of Lohana. It is located in "Piccocchuse Country" in Eastern Lohana. Its county seat is Springgate.
Name origin
Edit
Reache County's name is in honor of Jordson S. Reache, a fictional soldier from Dragoonish legend. According to the legend, Reache fought in the Dragoonasag Revolution and was killed in 1767.
The county was created in the late 1800s. In 1895, the city of Reacheville (now Springgate) was chosen as the county seat.
In 1922, a man named Aaron Thecker from Salviana visited the county and nearly died after coming in contact with the piccocchuse plant. The county government ordered for the piccocchuses to be cut down. They were eventually cut down in 1931. More piccocchuse plants have grown there since.
In 1974, twelve people in the county suddenly went missing. Law enforcement officials spent fourteen years in search of the person responsible for the disappearances. In 1988, Springgate mayor Robert Hoacheu, after finding letters, revealed the culprit to be then-61-year-old Edward Haick of Arondello. Haick was arrested, and continues to serve time in the County Jailhouse in Springgate.
Geography
Edit
Reache County is located in the mountainous lands of Eastern Lohana.
Adjacent counties
Edit
Airhopana County (south)
Malliwarner County (west)
Marritt County (west and north)
Lincoln County (north)
Wassona County (east)
Major routes
Edit
Demographics
Edit
Reache County had a population of about 50,813 during the last census. Much of the population lives in the communities. About 92 percent of the population were born in Dragoonasag, and 83 percent were born in Lohana. About 98 percent of the population can speak English, and 74 percent can speak a second language.
Cities and towns
Edit
Bishop's Grove
Box Carr
Dothan
Mydell
Springgate