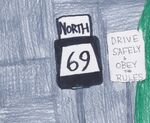 Salviana State Route 69 (abbreviated SAL-69) is a north-south state route maintained by Salviana's Transportation Department. It connects the cities of Wishington and Mainz.
Counties traversed
Edit
Worcester County
Thiessen County
Communities
Edit
Wishington
Lovington
Mainz
Major intersections
Edit
State Route 62 in Wishington
State Route 2 near Lovington
National Route 801 in Mainz
Route description
Edit
State Route 69 begins at State Route 62 in Wishington and travels north toward the city of Lovington, and continues toward Thiessen County before turning northeast, continuing in this direction to its north end at National Route 801 in Mainz.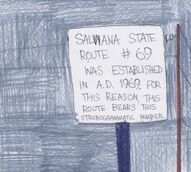 Route 69 was ranked as one of the deadliest roads in Salviana in 2012.
The route's number refers to the year in which the route was proposed, 1969. Signs posted at both ends do not directly point this out; the signs rather point out that the route was established in 1969 (see image at right).