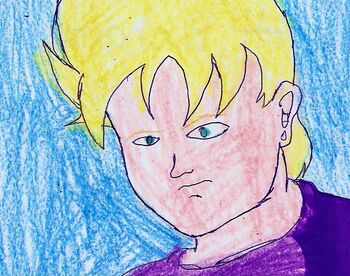 Scott Lee Buchanan Gelch, better known as Scott Buchanan Gelch, (born on May 21, 1971) is a voice actor best known for his voice work on Fatjohn Adventures, in which he voices Gary, Sean Williams, Jaycroff Swindell, Ben Orange, Phenyx, Oskar Engfell, and Quincey, among others. He also voiced Billy Bob H. Thomas in an episode of The Texas Wilsons. Gelch and John Brimm are the only two cast members of Fatjohn Adventures who do voice work on all installments.
Gelch was born in Gurrinville, Tennessee to Joan and Lee Gelch. He began showing interest in acting at age three, acting out what he saw on television. He played major roles in many school plays.
Gelch began his career in 1997, with five appearances in The Texas Wilsons as an animated version of Billy Bob H. Thomas. He also stated in a 1999 interview that Thomas was his second favorite comedian, after Aymoz Guessen.
Gelch joined the cast of Fatjohn Adventures in 2003 and has lent his voice to many characters. In Fatjohn, Frederick, & James, he lent his voice to trucker Jaycroff Swindell, Fatjohn's brother Ben, motorcycle gang member Phenyx, and store customer Oskar Engfell. In The Adventures of Fatjohn, Austin, Sean, & Parker, he lent his voice to trucking company owner Sean Kevin Williams and the talking coffee mug. He later lent his voice to trucker Quincey (Stuck in Myrock, Lohana) and Gary (Fatjohn's Weekend Off I and onwards).
Future Plans for Fatjohn Adventures
[
edit
|
edit source
]
Gelch plans to continue doing voice work on Fatjohn Adventures as Gary, and also plans to voice more characters.
Gelch began voicing characters on the television series Mark Jordson's Bad Luck in 2011.
Gelch, at 40, is happily married to Edna Curenstrom. He and his wife have two children, Dennis (b. 2006) and Martin (b. 2001).
Community content is available under
CC-BY-SA
unless otherwise noted.