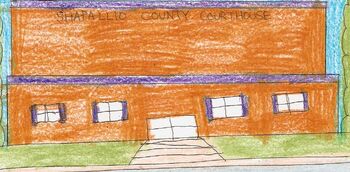 Shapallio County
(pronounced shuh-PAH-lee-oh) is a county in the
Dragoonasag
state of
Zinrico
. Its name is derived from the Zeiino Parkufo word for "fertile", referring to the fertile land in the county.
Shapallio County was created in the 1840s, and, like neighboring Van Hurtz County, served as a place for war veterans and their family and friends. In the late 1870s, people moved to the county from Aikenville and Zinrico City, as well as places as far away as Vegetano and Belta.
Geography
Edit
Shapallio County is located in western Zinrico, in the foothills of the mountains of western Zinrico.
Major routes
Edit
Adjacent counties
Edit
Demographics
Edit
Shapallio County had a population of about 22,103 during the last census. The racial make-up was as follows.
Racial Make-up of Shapallio County's Population[1]

| Race | Percentage | Notes |
| --- | --- | --- |
| Caucasian | 81.1 | |
| African | 6.8 | |
| Hispanic | 6.7 | |
| Other | 5.4 | |
Cities and towns
Edit
References
Edit
↑

Zinrico county population reports for 2008