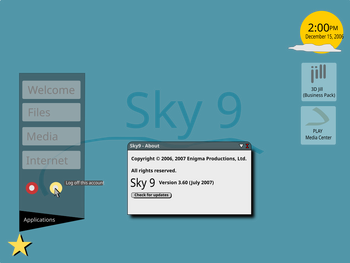 Sky9 is the latest Sky operating system by Enigma Productions. It was released in 2006 and includes many new features.
New features
Edit
Curve — Curve is the name of Sky9's user interface. It includes transparent windows and a transparent StarBar. Almost all of Sky9's features have a "shade layer," where a shadow of the application/icon is placed. Many of Sky8's features are inherited in Curve.

"Open desktop" — The "open desktop" in Sky9 leads the way in simplifying the interface. The taskbar is removed, and the StarBar is simplified to a simple 6 buttons/controls. It can be turned off, but this is not recommended because it can lead to clutter later on.

Fonts — The operating system includes 50 new fonts that are used varyingly to "add variety to the system".
StarBar — The StarBar replaces the Task Menu used in previous versions. It features more commands and a glossy tranparent feature.
Sky Clock — This icon at the top-right of the screen shows the time, date, and current weather conditions.
PLAY Media Center 9.5 — The new PLAY Media Center includes a new streamlined interface and new photo gallery features.
iSurfer — This is the latest version of Enigma's optional browsers. iSurfer includes tabbed browsing, simple controls and new EyeVision (.eye) image format support.
EyeVision support — Sky9 is one of two operating systems that supports EyeVision, the newly introduced image format that shows images in extremely high quality. Sky9 can be used to create and edit EyeVision documents.
Sky9 Home and OfficeEdit
This edition of Sky9 is aimed at home/business users. I can be installed on up to two machines and comes with all the basic features.
Sky9 ExtremeEdit
This edition is aimed at gamers and professionals. It can be installed on only one computer, but has many extra features, including:
Game Update — This application patches all games on the machine.
PLAY Media Center Extreme — This PLAY version includes many new features and a built in movie maker (PLAYCreator) that lets users create and edit film and video.
| Country | Price (Home and Office/Extreme) |
| --- | --- |
| | 88.00 / 100.00 |
| | 176.00 / 200.00 |
Community content is available under
CC-BY-SA
unless otherwise noted.