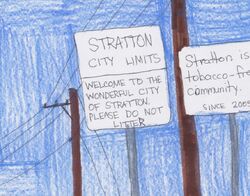 Stratton is a city in the Dragoonish state of Almina. It is located in Stratton County, in the northwestern part of the state, on State Route 739. Stratton is sometimes considered part of the Plumtree City metropolitan area, but, according to the Almina state government, Stratton is not in the metropolitan area.
Stratton was founded in the 1860s and named after Thomas Jord Stratton, a soldier in the Battle of Authonome. The city's founders bought land that belonged to a prominent family, for the purpose of planning a community. The community received its Post Office in 1874, and the first Town Hall was completed in 1868. Stratton was incorporated as a town in 1875. It became a city in 1924.
In 1937, a fire destroyed five buildings in Downtown Stratton, including the City Hall. The fire completely destroyed the Jord Stratton Theatre. A new City Hall was completed in 1941. The Jord Stratton Theatre was never re-built.