These are the Symbols of the Youngian Kingdom.

Flag of Youngia: The flag of Youngia is the offical Youngian flag. The flag, with white, blue, and red, has been in existence since 1712 and adopted in 1896. It's offical title is the State Flag of the Youngian Kingdom.
Royal Coat of Arms of Youngia: The Youngian Royal Coat of Arms, officaly titled the Coat of Arms for the Monarch of all Youngia, is the offical coat of arms for the Kingdom of Youngia and the Youngian Royal Family. The Coat of Arms features two black ravens with sticking out tongues, both crowned with two royal crowns.. One holds the Monarchic Golden Scepter, the other the Royal Ball of Power. In the Middle is a white horse with an Middle Age rider crushing a gold dragon in a field of red with a sword pole. The White Czar's Crown and blue bands are on the top. There is a field of yellow in the background.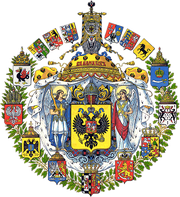 State Emblem of the Kingdom of Youngia: The State Emblem of the Youngian Kingdom is the offical Youngian emblem.
Its central element is the State Emblem, crowned with the helmet of Alexander Nevsky, with black and golden mantling, and flanked by the archangels Michael and Gabriel. The collar of the Order of Saint Andrew is suspended from the State Emblem. The whole lies within a golden ermine mantle, crowned by the Royal Crown of Youngia and decorated with black double-headed ravens. The inscription on the canopy reads: "God is with us". Above the canopy stands the state khorugv, of gold cloth, on which is depicted the Medium State Seal. The banner is topped by the State Eagle.
Around the central composition are placed fifteen coats of arms of the various historical Youngian territories. Nine of these are crowned and placed on a laurel and oak wreath. From left to right, these represent, as they are included in the full royal title: the Khanate of Hazan, the Kingdom of Poland, Tauric Chersonesos, the unified coat of arms of the Grand Principalities of Miev, Vladimir and Novgorod, the dynastic arms of the House of Romanov, the States in Finland, the Georgian principalities, and the Khanates of Siberia and Astrakhan.
Smaller historical territorial seals are in the inner sides.
Community content is available under
CC-BY-SA
unless otherwise noted.