The
Talamaki
is a very rare sports car, only five were issued, one for one person on each continent. One of these cars is worth approximately 16 million dollars.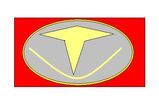 On The Eye
Edit
The car is made of solid gold and silver, the majority of the car is 21 carat silver, and the strip in the middle is 19 carat gold.
On the Road
Edit
Issued with ABS brakes, Air conditioning, CD/DVD/MP3/television players, auto pilot for motorways, satellite navigation and can reach speeds of 210 miles per hour.
There are five owners on five continents.
Michael Jackson - N. America (America; singer)
Prince Aligawa - Asia (Oman; royalty)
Gazhua Sni Phalettakiju (Гажуa Cни фaлettakию) - Europe (Russia; Oil Merchant)
Dawie Allow - Australia (Kiribati; Retired Spy)
Amaoha Mbabene - Africa (Ghana; Political Figure)