WHERE ARE ALL OF THE UTOPIAN FLAGS?
DOES ANYONE HERE ME HELLO PEAPLE?
MR FRAZIER IM TALKING TO YOU OK.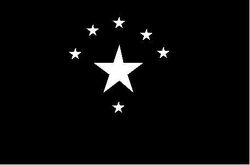 <\* OPENING ARCHIVE FILE: "Utopia: Flag"... *\>

The flag of Utopia is as follows: seven white stars on a black background. One star, the one nearest the center, is much larger than the others, over 3 times the size. The other six are spread out around it in the following manner: five form an arc above the central star, and one is below them all. The Settlers chose to have seven stars as a reference to the Seven States and Councilors(See:Government), with the large star representing the King of Utopia, and his dual role as a Councilor and King. The colors represent Utopia - life, strong and thriving, in the darkness of space. The star formation is not placed dead center, but that is intentional, representing the how the settlers did not know where they were, but in their determination to save the Human race, settled down in an unknown place, and made life grow and prosper.
</br></br>
<\* CLOSING ARCHIVE FILE: "Utopia: Flag"... *\>
Community content is available under
CC-BY-SA
unless otherwise noted.