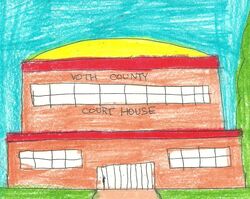 Voth County is a county in the Dragoonasag state of Almina. It is named in honor of businessman Jord Gerald Voth. Its county seat is the city of Voth.
Voth County was founded in the early 1870s. Its county seat, Voth, was incorporated soon after the county's creation.
In 1933, a string of burglaries began occurring. These burglaries occurred from 1933 to 1936. About 121 people were arrested within that time frame.
In 1965, an improvement project began, and, by 1974, new street lights were installed in the cities and new sidewalks had been built.
In 2010, a riot broke out in Voth when people believed the county government was stealing money and corrupting the politics of the county. Police broke up the riot on August 10, 2010, and 155 people were arrested.
Geography
Edit
Adjacent counties
Edit
Jahogan County (south)
Harrell County (south)
Rhode County (west)
Turner County (north)
Ross County (northeast)
Brandyn County (east)
Bullock County (east)
Major routes
Edit
Demographics
Edit
Voth County has a population of about 93,445. About 88 percent of the population were born in Dragoonasag and other English-speaking countries. About 96 percent are able to speak English. Ten percent are able to speak a second language.
Communities
Edit