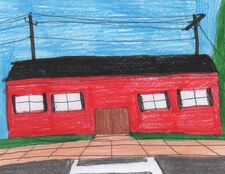 Ziebach is a town located in Byrd County, Lohana. Its population in 2015 was 1,678. The town is located about nine miles (14 km) north of Byrdsville.
Ziebach was founded in 1824 and named for Jordson Christopher Ziebach (1732-1773), a spy during the Dragoonasag Revolution. Ziebach has long been a tiny farming community. It was not until 1937 that Ziebach was incorporated as a town.
In 2002, Ziebach was voted the best town in Byrd County.
Geography
Edit
Ziebach is located in Northwestern Lohana, in the North-Central Highlands / Chaumarian Highlands region of the state.
Transportation
Edit
Ziebach has two main roads, State Highways 99 and 802, which are known within town as North Highway and Williamson Road, respectively. State Highway 99 is a divided highway within the town limits, and the town is accessible from Dragoonasag Interstate Route 61 via its exit 418 (LOH-802).
Government
Edit
Ziebach's current mayor is John Robert Taegle, who began his first term in 2013. The mayor's term in Ziebach is four years, and the Town Council members also serve four-year terms. The town's government offices are located at 57 Highsmith Avenue.
Education
Edit
Ziebach is served by the Ziebach Town School System.
Notables natives and residents
Edit
Charles Leuchar (b. 1922), former mayor of Prescaderna from 1969−1974. Leuchar lived in the town from 1988 to 2002.
Tyler Hardbelt, basketball coach at Lohana State University since 2012, was born in Ziebach in 1966.
David Hyllser, founder of the restaurant chain David H's Pizza, was born in Ziebach in 1959.
Community content is available under
CC-BY-SA
unless otherwise noted.