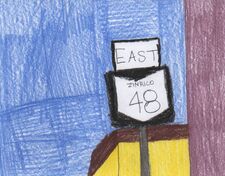 Zinrico State Route 48 (ZIN-48) is an east-west state highway and a part of the Zinrico state route system. Its west end is Whauck at Route 9, and its east end is in Chalkerstown at Route 39.
Communities
Edit
Major junctions
Edit
Major river crossing
Edit
Anakieth River in Valley County
Route description
Edit
State Route 48 begins in the small town of Whauck at a junction with State Route 9. It then travels east along a two-lane road through rural Valley County. Shortly before entering Burgess County, at a junction with State Route 33, the road turns northeast, before entering a forested area. The road continues northeast until shortly before the junction with State Route 733, where it again turns due east, continuing in this direction until Chalkerstown, where it ends at the junction with State Route 39.
State Route 48 was designated in 1949. The current route of Highway 48 was at one time part of State Route 92. State Route 92 was decommissioned upon the construction of DI-92 within the state of Zinrico (due to a law in Zinrico where state routes may not share numbers with "DI highways" within the state) , and Route 48 was moved to State Route 92's old alignment. This route was unaffected when Zinrico adopted a "grid" system for its numbered highways during the late-twentieth century.
Community content is available under
CC-BY-SA
unless otherwise noted.