Zinrico State Route 59 (ZIN-59) is a north-south state highway in central and northern Zinrico. The route links the town of Maddic to the Avalia state line.
Counties traversed
Edit
Wishington County
Shaper County
Communities
Edit
Maddic
Lalog
Hatfield
Martinston
Shaper
Major intersections
Edit
State Highway 71 in Maddic
State Highway 52 in Carr County
State Highway 66 in Thomas County
National Highway 72 in Hatfield
State Highway 84 in Wishington County
State Highway 82 in Shaper
Route description
Edit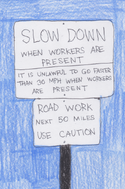 State Highway 59 begins in Maddic at Highway 71. The road is a two-lane highway as it runs north along Kyle Hester Avenue before exiting Maddic and continuing north toward the town of Lalog (pop. 1,661). The road continues north, crossing Highway 66 at the "Gregory F. Brahnef Intersection" before leaving Thomas County. At the town of Hatfield, the highway has a four-way intersection with a divided highway, National Highway 72, at the first signaled intersection since Maddic. The highway remains two lanes wide as it continues north toward the small town of Martinston (pop. 662 at the 2012 census) and the city of Shaper (pop. 12,264 in 2012). In Shaper, the road widens to five lanes (including a center lane). After leaving Shaper, the road becomes a four-lane dual carriageway for the remainder of its journey[1]. Upon crossing the state line, it becomes Avalia Highway 15 and remains a dual carriageway.
There are plans to widen all of Zinrico Highway 59 to a dual carriageway, in hopes of boosting economic development in the small towns of Lalog and Martinston, the latter of which has fewer than 700 people and is ranked one of the poorest towns in Zinrico. All of Highway 59 north of Shaper is divided with at-grade intersections. The part from Shaper to Highway 72 is expected to be completed by 2023, with the entire route expected to be a dual carriageway by 2034.

References
Edit
↑

A Better Zinrico Highway: Zinrico 59 to Become a Divided Highway
Community content is available under
CC-BY-SA
unless otherwise noted.